MEDAN (Indonesia)
Updated February 3, 2020
---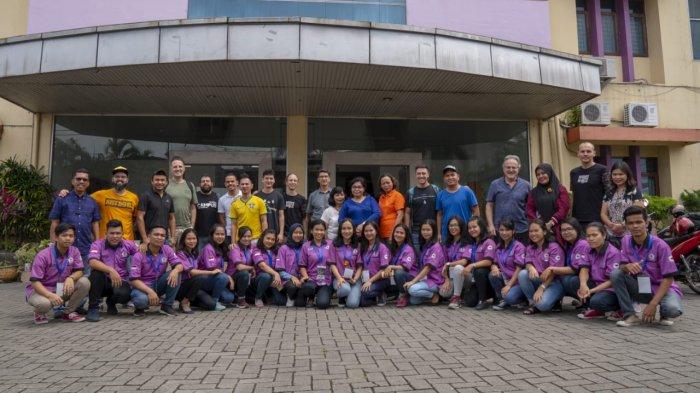 The Polytechnic center of the city of Medan MBP invited Gen Rosso to "create together" a concert dedicated to peace, as willed by the teacher, who is also the main coordinator of the event, Juwita Magdalena Sitanggang. The concert entitled "We are one" was attended by 850 students not only from the MBP Polytechnic, but also from other universities: Amik MBP and Medan Stikom. "I'm really happy that from so many universities in the city, we, the MBP Polytechnic, have been chosen to host a concert dedicated to peace on our campus. The goal was to invite all young people to become a new generation, a generation of peace, which is reached through music."
The concert on the University Campus of the Polytechnic of Medan saw 100 young people, mainly Muslims, scattered on the stage, in a blaze of joy and enthusiasm. The hall was filled with 850 spectators. The students were adequately prepared in the various workshops: percussion, choir, hip-hop dance and communication. In the end, a certificate of participation from Gen Rosso was given to all young people who attended the event.
"Gen Rosso, currently composed of members from 7 different countries, precisely because of its diversity, offered a message of the beauty of being united. This is also in line with our philosophy: "Unity in diversity", Juwita Magdalena Sitanggang still told us.
As farewell, the third vice-rector of the Polytechnic center of Medan, Clara Puspita, expressed a desire that naturally has also become ours: that all students draw a deep inspiration from the Gen Rosso performance so that it may become a beacon of light for peace for all of Indonesia.

Il Politecnico della città di Medan MBP ha invitato il Gen Rosso per "creare insieme" un concerto dedicato alla pace, cosi ha espresso la docente, nonché la coordinatrice principale dell'evento, Juwita Magdalena Sitanggang. Al concerto intitolato "We are one" hanno assistito 850 studenti non solo del Politecnico MBP, ma anche di altre università: Amik MBP e Medan Stikom. "Sono proprio contenta che da così tante università presenti in città, proprio noi, il Politecnico MBP, siamo stati scelti, per ospitare nel nostro Campus, un concerto dedicato alla pace. L'obiettivo era quello di invitare tutti i giovani a diventare una nuova generazione, una generazione di pace, a cui si arriva attraverso la musica."
Il concerto nel Campus Universitario del Politecnico di Medan ha visto intercalarsi sul palco, in un tripudio di gioia ed entusiasmo, 100 giovani, prevalentemente musulmani. In sala era un pieno di 850 persone. Gli studenti sono stati adeguatamente preparati nei diversi workshop: percussioni, coro, hiphop dance e comunicazione. Alla fine, a tutti i giovani che hanno partecipato all'evento, è stato consegnato un certificato di partecipazione da parte del Gen Rosso.
"Il Gen Rosso, attualmente composto di persone provenienti da 7 paesi differenti, proprio per la diversità ha offerto un messaggio della bellezza di essere uniti. Questo è anche in linea con la nostra filosofia: "L'unità nella diversità", ci comunicava ancora Juwita Magdalena Sitanggang.
Come addio, il 3 vicerettore del Politecnico di Medan, Clara Puspita, ha espresso un desiderio che, in modo naturale è diventato anche il nostro: che tutti gli studenti possano trarre un'ispirazione profonda dall'esibizione del Gen Rosso, in modo tale, che essa diventa un faro di luce della pace, per tutta l'Indonesia.



Back