GEN ROSSO TOUR IN SICILY
Updated May 23, 2022
---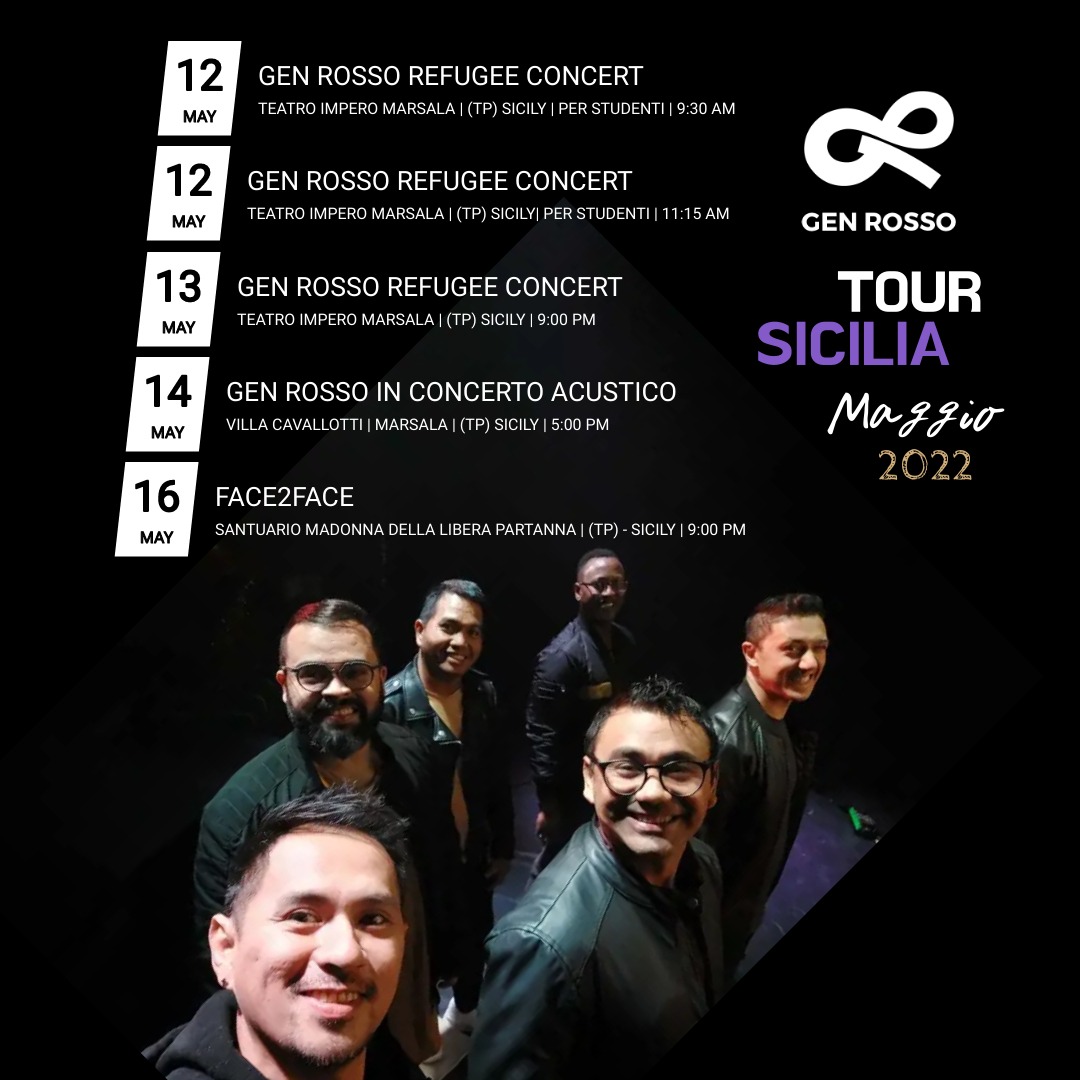 ENG At the invitation of the MUNICIPAL ADMINISTRATIONS of Marsala and Partanna, GEN ROSSO returned to the IMPERO THEATER in Marsala and the SANCTUARY OF MADONNA DELLA LIBERA. In Marsala there were two concerts for schools, on May 12th at 9:30 AM and 11:15AM, and one in the evening on May 13th at 9:30 PM. On May 14th, an acoustic concert at VILLA CAVALLOTTI at 5PM, while in Partanna a unique acoustic evening concert on May 16th at 9:00 PM.
ITA Nei prossimi giorni avverrà il tanto atteso ritorno del GEN ROSSO al TEATRO IMPERO di Marsala su invito DELL' AMMINISTRAZIONE COMUNALE e a Partanna al SANTUARIO MADONNA DELLA LIBERA, sempre su invito DELL'AMMINISTRAZIONE COMUNALE locale. A Marsala si terranno due concerti per le scuole, il 12 Maggio mattino alle ore 9.30 e 11.15 ed uno serale il 13 maggio alle ore 21.30, poi il 14 maggio, un concerto acustico a VILLA CAVALLOTTI alle ore 17.00, mentre a Partanna un'unico concerto serale acustico il 16 maggio alle ore 21.00. L'ingresso è gratuito per tutti gli spettacoli fino ad esaurimento posti.
ESP Dentro de unos pocos días tendrá lugar el tan esperado concierto del GEN ROSSO en el TEATRO IMPERO de Marsala, por invitación de la ADMINISTRACIÓN MUNICIPAL y en Partana, en el SANTUARIO MADONNA DELLA LIBERA, por invitación también de la ADMINISTRACIÓN MUNICIPAL local. En Marsala realizaremos dos conciertos para los colegios, el 12 de mayo por la mañana a las 9:30 y 11:15 horas y uno por la noche el 13 de mayo a las 21:30 horas, después, el 14 de mayo, un concierto acústico en VILLA CAVALOTTI a las 17:00 horas, mientras que en Partana llevaremos a cabo un único concierto acústico por la noche el 16 de mayo a las 21:00 horas. La entrada es gratuita para todos los espectáculos hasta completar el aforo.
POR Nos próximos dias o GEN ROSSO retirnará ao tão esperado TEATRO IMPERO em Marsala a convite da ADMINISTRAÇÃO MUNICIPAL e em Partanna ao SANTUÁRIO w2DE MADONNA DELLA LIBERA, sempre a convite da ADMINISTRAÇÃO MUNICIPAL local. Em Marsala haverá dois concertos para as escolas, no dia 12 de maio de manhã às 9h30 e 11h15 e um à noite no dia 13 de maio às 21h30, depois no dia 14 de maio um concerto acústico na VILLA CAVALLOTTI às 17h00, enquanto em Partanna um concerto único concerto acústico da noite no dia 16 de maio às 21h00. A entrada é gratuita para todos os shows, sujeito à disponibilidade.
FRA Dans les prochains jours aura lieu le retour tant attendu du GEN ROSSO au THÉÂTRE IMPERO de Marsala, sur l'invitation de l'ADMINISTRATION MUNICIPALE et à Partanna au SANCTUAIRE DE LA MADONNE DE LA LIBERA, toujours sur l'invitation de l'ADMINISTRATION MUNICIPALE locale. A Marsala, sont prévus deux concerts pour les écoles, le 12 mai matin à 9h30 et 11h15 et un le soir le 13 mai à 21h30, puis le 14 mai, un concert acoustique à VILLA CAVALLOTTI à 17h00, tandis qu'à Partanna une unique soirée concert acoustique le 16 mai à 21h00. L'entrée est gratuite pour tous les spectacles sous réserve de disponibilité.
Back